Character stats are one of the most important systems in Trickster, they determine nearly everything in the game from damage, to compounds, to weight, and more. Stats are received innately (determined by your guild graph), through equipment, and through skills. This page will focus on describing each of the 12 major stats, as well as some other ones unlisted on the Growth page.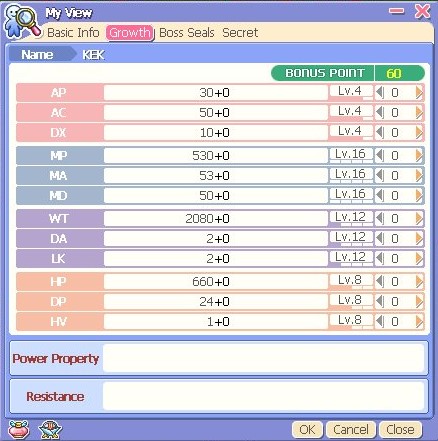 Power

AP

This is the stat which increases the power of your character's physical hits and Power (and some Charm) skills. It is the main stat for power types.

AC

This stat controls whether your character's physical hits or your skills miss or not, so despite being a Power type stat, it is important for all characters, even mages. This also is the main stat for Lions and their gun abilities.

DX

Increases how fast your character performs their physical hits, the lower the stat, the faster you hit. This stat has an invisible cap of -40.

Magic

MP

This refers to your mana points, the blue health bar beneath your health bar. This controls how much mana you have to cast spells with.

MA

This is the main damage stat for Magic types, controlling how much damage their spells do (outside of certain elemental spells).

MD

Your magic defense stat, it raises your defense against magic attacks.

Sense

WT

This controls how much item weight your character can hold. Each individual item has a weight value, exceeding 90% weight means your character will walk (instead of run) until you've dropped, sold, or stored some of your items in your inventory. PandaTO's custom equipment typically offers quite a bit of weight compared to the original server, but keep your weight capacity in mind when journeying.

DA

Your detection ability, this refers to your drilling capabilities. The higher the number is, the more likely your character will know that there isn't an item where they're drilling and not try (your character will say "An item is not here."). Your detection ability reaches 100% detection rate at 90 DA, after this your character will never drill and find nothing again. This is also the main stat for non-gunner Foxes and hybrid Lions.

LK

This stat originally was thought to increase your chances of getting better Mature Compound results but that is almost entirely up to chance. This stat measures whether your character's attacks (physical hits and spells) will be blocked or not, so it's important for all characters, as well as whether their own attacks will be blocked or not.

Charm

HP

Your health points, this determines how close your character is to dying. It also affects some charm skills.

DP

Defense points, determines how much damage your character takes when getting hit with physical attacks. It also increases Cat's Siren Song damage.

HV

This is your evasion points, determines whether your character will dodge physical attacks or not. It is also one of the main damage stats for charm skills.
Unlisted stats

Elemental attribute (Soil attribute, Air attribute, Water attribute, Electricity attribute, Fire attribute, Dark attribute)

Listed in the "Power Property" section of the Growth tab, these stats increase your characters physical hit damage, as well as certain Magic/Power attacks such as Flaming Fist, Earthquake Blade, and Scythe. Elemental attacks are typically much stronger than non-elemental attacks due to their scaling.

Elemental resist (Soil resist, Air resist, Water resist, Electricity resist, Fire resist, Dark resist)

Listed in the "Resistances" section of the Growth tab, these stats increase your resistance to their respective elemental attacks. Due to how unreliable these resistances are, they're typically not bothered with.

Shadow attribute/resist

These are also listed under the "Power Property/Resistances" sections, but are listed here as they only deal with monsters in the Shadow World, and thus are often useless.

Movement speed

This stat isn't listed on the Growth tab, nor officially on equipment, but is mentioned in the description of a Sprint. For powerful sprints, see PandaTO Endgame Unique Equipment under each category.

EXP/TM Boost

Not officially listed in the client, the server innately has a server-wide boost of 8x EXP/TM boost, and players can see the amount of EXP/TM boost their booster items give by looking in the item's description.

Drop rate

This increases how often regular monsters (not Boss Monsters or Sentinels) drop items. The server innately has a 4x boost on drop rates, but players can increase their own drop rate stat by getting a Fortune.
Community content is available under
CC-BY-SA
unless otherwise noted.