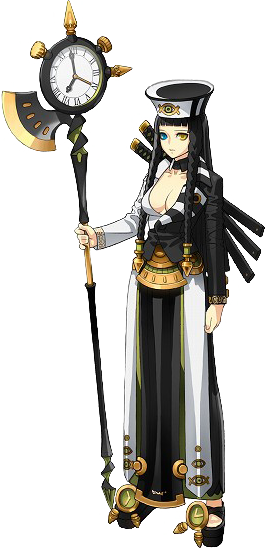 Chaos Tower consists of 11 consecutive floors of the most arduous monsters in all of Caballa Island. Once a Trickster enters the dungeon and begins to explore its nefarious interior, there is no backing down, no retreating and no going back.
Battle the monsters inside for a chance at obtaining Panda Coupons, an exchange item for Level 330 ~ 400 Equipment. The higher you climb, the more ferocious the monsters and the better the rewards. Complete Eclipse's shard quest to ascend to the next consecutive floor.
While the minimum entry requirement is Level 160, this danger filled dungeon area is not for the faint of heart! Even for Tricksters who do meet the level requirement, it will be a difficult and adventurous journey.
The Megalo Company highly recommends only Level 300+ battle hardened and fully armoured Tricksters attempt to climb this tower. To reach the top floors and stand a chance against the monsters, Tricksters will need to band together and fight side by side to survive.
Speak with Don Giuvanni in Blooming Cora to be granted entrance to Chaos Tower.
Gate of Chaos Tower - 1st Floor
Mirabo Watty
Item Girl
2nd Floor
Drop: PandaTO Coupon A
Floor Transfer: Free
Battlefield Transfer: 1x Elixir Extract
Confused Yamu
Chaotic Yamu
3rd Floor
Drop: PandaTO Coupon A
Floor Transfer: 1 Million Galder
Battlefield Transfer: 10x Chaos Shard 2
Confused Mole
Chaotic Mole
4th Floor (Safe)
Mirabo Watty
Item Girl
Pet Trainer Shara
5th Floor
Drop: PandaTO Coupon A
Floor Transfer: 1 Million Galder
Battlefield Transfer: 10x Chaos Shard 3
Confused Mantis
Chaotic Mantis
6th Floor
Drop: PandaTO Coupon B
Floor Transfer: 1 Million Galder
Battlefield Transfer: 10x Chaos Shard 5
Confused Seth
Chaotic Seth
7th Floor
Drop: PandaTO Coupon B
Floor Transfer: 1 Million Galder
Battlefield Transfer: 10x Chaos Shard 6
Confused Mingo
Chaotic Mingo
8th Floor (Safe)
Mirabo Watty
Item Girl
Pet Trainer Shara
9th Floor
Drop: PandaTO Coupon C
Floor Transfer: 1 Million Galder
Battlefield Transfer: 10x Chaos Shard 7
Confused Tritch
Chaotic Tritch
10th Floor
Drop: PandaTO Coupon C
Floor Transfer: 2 Million Galder
Battlefield Transfer: 10x Chaos Shard 9
Confused Aposis
Chaotic Aposis
11th Floor
Drop: PandaTO Coupon D
Floor Transfer: 3 Million Galder
Battlefield Transfer: Level 400, 10x Chaos Shard 10
Confused Isabelle
Chaotic Isabelle
12th Floor
Drop: PandaTO Exchange Coupon (E)
Floor Transfer: 3 Million Galder

Battlefield Transfer: Level 400, 1x Chaos Shard 11

Requiem Harbinger
Evil Don Giuvanni (Summon)